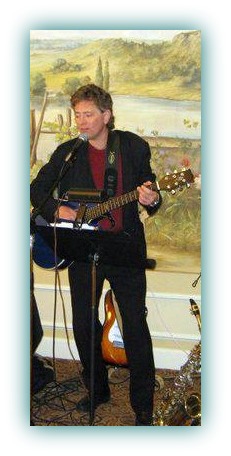 Allow me to introduce myself! My name is John Scott.
I play saxophone, acoustic and electric guitars, and I sing. I am a musician and an entertainer. I quite often receive comments about what an enjoyable show I put on.
(Please visit my reference page to read a sampling of what others say)
. I perform some songs with solo acoustic guitar and others over tracks that merely provide a fuller sound (so I sound like a one-man band). I have my tracks on a laptop so I'm able to quickly change to accommodate requests. My sound system is a Bose L1 Tower model which is very portable yet spreads the sound evenly throughout the room.
I specialize in a variety of genres and eras of music. I perform at senior centers, wineries, weddings, receptions, etc. For these functions, I put on a show with everything from Sinatra to Johnny Cash to Dean Martin to Rock Around the Clock. When I perform at wineries and cafes (such as Rendezvous where I perform typically once per month), I work in those songs if it fits the crowd or is requested. But, I also play a whole different selection (for instance, Jason Mraz, Jack Johnson, Crosby Still Nash, Eric Clapton, Beatles, etc.)
I have two sets of song lists (and am open to requests). Find my song lists here:
I look forward to talking with you after you have had a chance to look over my information and setting a date when I can come entertain for your event. For specific pricing, please contact me:
John Scott * (636) 978-8721 * (314) 302-0073 (Cell) * Johnscottmusician@yahoo.com (email) *
Johnscottmusician.yolasite.com (Website) *